2015
Editor's Note
Rachel Gaddis and Courtney Gibson worked efficiently to design this literary magazine. Sigma Tau Delta recruited Rachel Gaddis from the Mass Communication Department specifically for layout design. Her duties included placing content and working with spacing. We also recruited Courtney Gibson from the Fine Arts Department to be our graphic designer. She helped with typography, illustrations and the cover design. I and Sigma Tau Delta would like to extend a huge thank you to both of these ladies for creating a beautiful Scope.
Scope is a student created journal published by Sigma Tau Delta, the English Honor's Society. In the Fall, Sigma Tau Delta reached out to Ouachita students and asked them to submit their completed arful works. As an addition this year, we included visual art. In this journal you will find a vast array of art mediums and topics. Once we received the works, my job as editor began.
I formed three committees: poetry, short stories and creative nonfiction, and visual art. In these committees we chose anonymous entries to publish in Scope. We based our decision on the polish and "uniqueness" of the submitted works to provide a variety of themes. The completion of this process allowed Rachel Gddis and Courtney Gibson to create the journal you are holding. This journal was designed via Adobe InDesign and printed by Conway Copies in Conway, AR.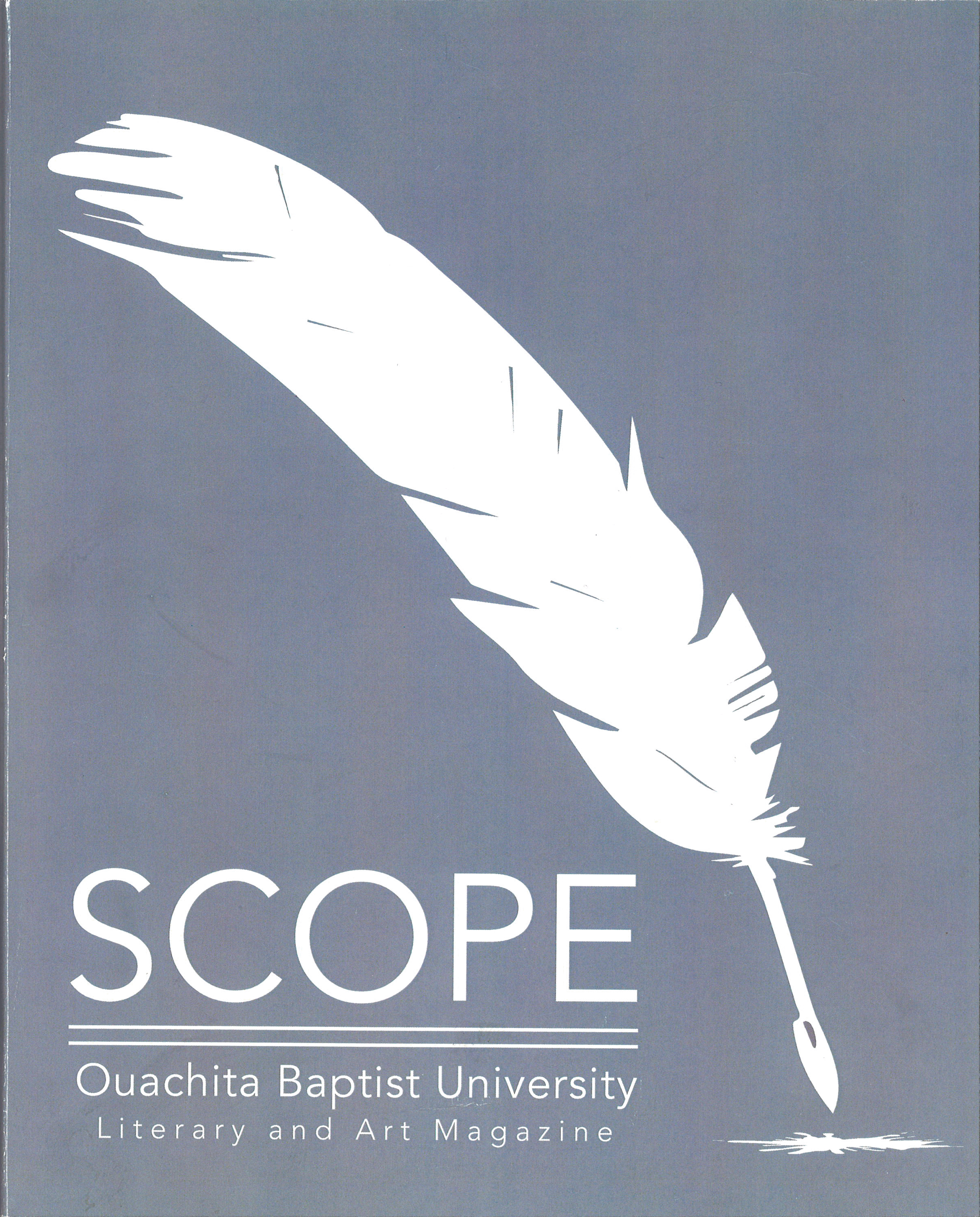 Acknowlegements
Staff
President

Marissa Thornberry

Editor

Megan McLaughlin

Associate Editor

Rachel Gaddis

Graphic Designer

Courtney Gibson

Secretary

Shelby Spears

Members

Aaron Hill
Abby Thomas
Baronger Bieger
Emily Knocke
Hannah Wright
Joanna Horton
John Sivils
Libby Hilliard
Macy Fouse
Nina Hefner
Sarah Hurlburt